Auto Electrical And Diagnostics
If your check engine light keeps coming on and you don't know why to bring your car into European Motorsports and we'll run a full gamut of auto electrical and diagnostic tests. In many cases, that little light indicates an easy fix, like a loose gas cap, but bigger electrical problems could be right around the bend. Drive with confidence again and keep yourself and your passengers safe with our diagnostic services.
Our automotive experts treat your car's problems as if they were working on their own car, so they'll always provide the absolute highest quality of services.
STATE OF THE ART EQUIPMENT
No matter how complicated the electrical problem may be our automotive experts will find the problem with our state-of-the-art diagnostic equipment. We only work with the latest technology to ensure accurate results.
AUTO ELECTRICAL AND DIAGNOSTIC SERVICES
Airbag systems and computer reprogramming
Radio and navigation
Interior/exterior lights, power windows/locks
Electrical systems and wire harness repairs
The instrument cluster and speedometer calibration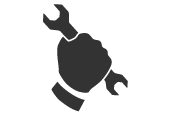 EVERYTHING YOUR AUTOMOBILE NEEDS